Transform dialog¶
The transform dialog is used in a number of places where information needs to be prepared, manipulated or processed during import, copying or export.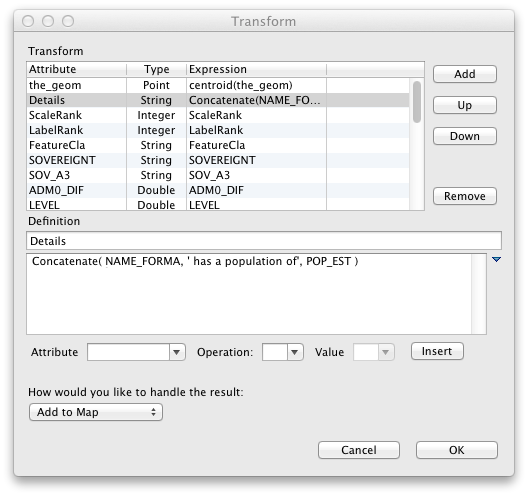 Transform¶
The Transform table lists the attributes that will be generated when creating your new features.
The table provides the following information:
Attribute: name of the attribute being generated
Type: type of attribute being generated. This value is calculated on the fly as you enter a expression.
Expression: expression used to calculate output values
Definition¶
Name: Name to use when defining the selected attribute. Please keep in mind the limitations of your output format when choosing a name. Many formats such as shape file are unable to handle names that contain spaces, punctuation or start with a number.
Expression: The Constraint Query Language used to generate the values on output. Use the drop down arrow on the right to cycle the Expression viewer through several helpful options.
How would you like to handle the result¶
Add to Map: can be used when processing a layer, in addition to adding to the catalog the result is immediately added to the Map as a preview.
Add to Catalog: the results are saved into the Scratch working area
The operation will be started.
Cancel¶
Cancel the operation, no result will be generated.
Related tasks
Related reference